Hunan Chutian Real Estate Development Co., Ltd. is a joint-stock private enterprise, registered in the provincial Industry and Commerce Administration Bureau with the registered capital RMB57.5 million and the qualification ranking grade three.
  The company is divided into four departments: general affair office, financial office, engineering department and marketing department. There are 52 staff members, 85% with the education background of bachelor degree or special course of study or the advance and intermediate title of technical post.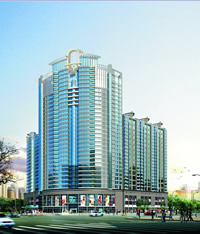 Chutian House Garden
(the Second Period)
  Chutian House Garden, which is invested and built by our company, is a multi-function zone integrating business and trade, residence, entertainment. The hub-symmetry distribution and board model construct style are applied in the overall layout. Chutian Homeland occupies 55 Chinese Mu, covers 1.7million square meters of floor space The project is going with two steps. In the first step, it builds three pretty high buildings with elevator(13 floors, with 12 floors on the ground. 1 floor under the ground), which are frame scissor frame board model, covers 62337 square meters, of it, the residence area is 47513 square meters, business area is3952 square meters, the area of garage is 10872 square meters. This project is in good sale in Xingsha district, and it enjoys good popularity, reputation and confidence not only in Xingsha district but also in other district. Up to now, all housing are sold out.
The second stage of Chutian Homeland project, on the basis of the first step, further promoted the quality function of the building. The comprehensive building is made up of four high and quality buildings. It aims to build a mark building in Xingsha district. It is also an advocator for top grade residence in Xingsha district, and upgrade the life lever. The overall area is 103813.68 square meters, of it, the residence area covers 71006.89 square meters, shopping market area covers 17606.66 square meters, and the cellar area covers 15200.13 square meters.